Top Magician For Birthday Party Fun!
Northern Virginia entertainers & magicians for kids birthday parties! Click To See Reviews.
Watch this video & experience what many are calling the best magic show for kids you'll ever see.
I think you'll agree with us when we say:
Your child's special day should be fun and magical. Shouldn't you hire the best birthday party magician around? You'll be glad you did!
Here's the good news. . .
The Magic Of Zain team will bring a smooth flow to your children's party with our brilliantly designed kids' birthday party entertainment packages! You will save time, money, and your sanity. If you are considering a Northern Virginia magician for a birthday party, you will want to read their reviews. See our kids' magic party testimonials here.
Birthday Party Magician In Fairfax, Prince William, Loudoun, & The Northern Virginia Area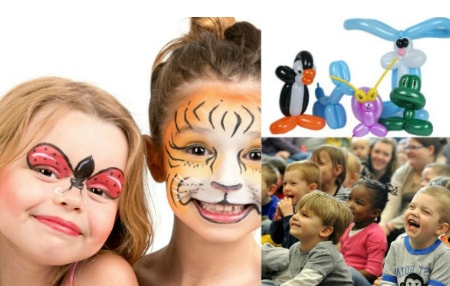 Party Packages
Get ready for the best party ever with expert face painters, balloon twisting, and Zain the birthday party magician! Our perfectly planned child entertainment is stress-free.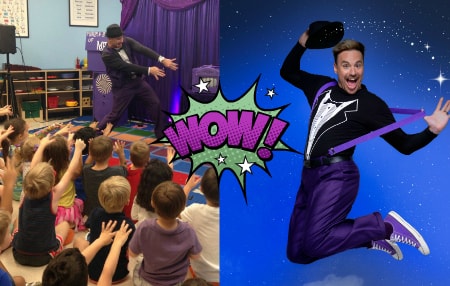 Client Reviews
Over 4000 magic shows for children's parties and hundreds of five-star reviews! Learn why Zain the Virginia magician is loved by kids and trusted by parents just like you.
Our Entertainers
Want to learn more about Zain's magic show for kids? Do you have questions about our birthday party entertainers? Learn about our party magicians for children here.
A reliable magician for kid birthday party celebrations that will NEVER let you down. GUARANTEED. Show Me Pricing!
Free Birthday Party Ideas For Kids!
Book a venue if you are having one. Send out invites 3-4 weeks prior. If you are choosing a theme, decide. Set up balloons, tables, streamers. Make sure your camera is charged! Place food order, such as pizza. Bottled water, snacks, and ice, etc. Select party favors. Make a guest list. Remember: Lighter, candles, & cake knife. Hire a magician for a birthday party! Want more great ideas for children's parties? Click Here!
The best part?
Your party will be a fun-filled experience that the kids will love. Hear the belly laughs and see the children's faces light up! A magician for a child's birthday party is a unique surprise. Our kids' birthday event magician specializes in turning parties into unforgettable celebrations.
"The in-demand face painting & magicians for kids birthday parties in Northern Virginia." Angie Goff- NBC Washington anchor and TODAY contributor
Sounds impressive, right?
Your child deserves the absolute best entertainers for kids' party magic shows in Virginia. This should also be an enjoyable and exciting family event for you. Our simple booking makes it a breeze to reserve Zain the famous birthday party performer.
The children at your party will be AMAZED by Zain the magician. You will receive TONS of compliments from parents! Contact Entertainers Near You!
Look:
Your guests will be glued to their seats as they are treated to hilarious comedy and illusions for kids. This is Northern Virginia's premier live entertainment for a kids' birthday party!
"Perfect! Hired again for next year." Dalia S – Magician for kid birthday party – Prince William County, VA
Our Magic Show For Kids Features:
A real bunny in all the magic acts!
Your child is the star of the birthday party magic show!
Magic tricks for kids of all different ages
The highest-rated magician for a birthday party in Northern Virginia
Affordable packages with face painters, balloon twisting, and

educational magic workshops

Jaw-dropping magic tricks & squeaky clean family comedy
We travel to you & the kids' magic show set-up is a piece of cake. Living rooms & basements work great!
Zain the children's performance artist captures the undivided attention of all the kids. The adults enjoy the comedy and the magic act too!
DJ system for kids' music, lighting, and backdrops for fabulous photos!
Theatrical magic show for a birthday party you will find nowhere else
Have questions? Check out our

FAQ for our entertainers
A Full-Time Professional Birthday Party Magician. Over 4000 Children's Magic Shows & Millions Of Priceless Smiles.
What's the bottom line? magician for kids birthday party
A quality magician for a kids' birthday party doesn't have to break the bank. We have competitively priced children's party entertainment solutions for any theme, style, or occasion! If you have custom ideas for a child's birthday celebration, we'd love to chat all about it!
It sounds simple. And it is.
Reserving a first-class children's birthday party performer has never been easier. If you've noticed, our team has lots of magic show party reviews. We simply LOVE what we do! See our kids' party magician reviews here!
Want to know a secret?

Would you like to know how to entertain kids at a birthday party? It's no secret that it takes an experienced and skilled entertainer. Zain is the celebration magician that audiences go wild over! Welcome to the magic show for a children's party that Northern Virginia parents rave about!
You might be wondering:
Will the adults enjoy the kids' magic show? They will be laughing their faces off. Get ready for a whirlwind of comedy magic and mind-boggling fun. Congratulations, you're about to have the best party ever!
Now let's take it somewhere awesome
You are one step closer to being the coolest parent on the block! Click the link below, you are under no obligation.
Reserving Zain the birthday magician is simple and convenient.
Don't wait until the last minute to book, or your date will vanish.