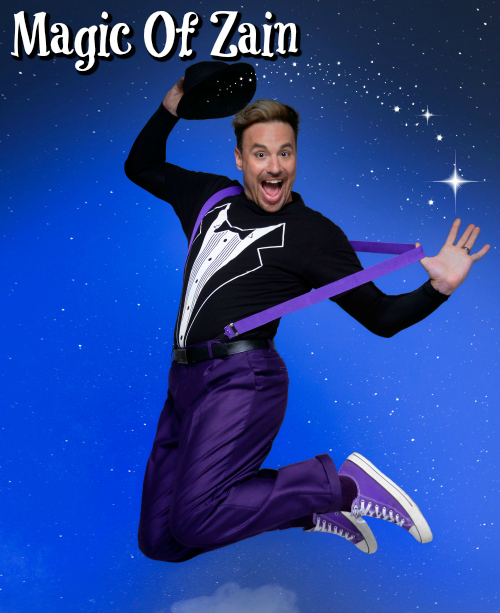 Northern Virginia's Celebrity Magician
Congrats, You're About To Have The Best Party Ever!
Easily hire a magician for any fun family event. Fill out the quick form below.
• We follow CDC guidelines and encourage proper physical distancing & practice of hand sanitation during events. Sterilization protocols used.
Hire A Magician That Engages All Of The Kids From Start To Finish!
Click Start Below & Check Availability Instantly Now!
Your child is the superstar of the party. You will enjoy a stress free event on your child's special day.
"Everyone was laughing and had a great time." CARFAX
Hire A Local Magician That Kids & Adults Love
Zain the magician performs locally in Ashburn, Fairfax, Chantilly, and surrounding areas, including Gainesville, Loudoun, Annandale, and Reston.
Zain will make sure your child's celebration is perfect. Adults love the show too!
With a positive message that promotes wonder, imagination, and self-esteem; the audience will be captivated by the Magic Of Zain. Our kids' magic performances are carefully tailored with clean comedy, kindness, and respect. If you are in need of a great idea for a kids' event this is it!
"Zain the magician was very entertaining for all ages that attended. I saw small kids from 2 years to 13 years old smiling and laughing. The entire show was professional and the kids were participating in the show with the magician. Very pleased with the performance and display."

Capital One Center Tysons Corner Virginia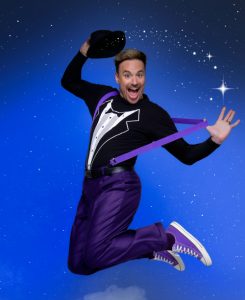 Email
Phone
Address
Manassas, VA 20109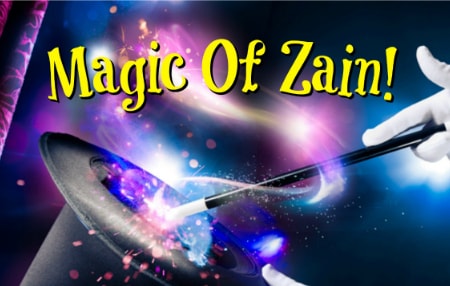 With over 4,000 shows and counting, our team is highly experienced and professional. Zain is one of the most talked-about local magicians in Northern Virginia.
Experience The Joy Of Magic
"Look at this life – all mystery and magic."
– Harry Houdini
Unforgettable Memories
Let's make this an unforgettable party that people will be talking about for years to come.
Rent A Magician With Balloon Twisting & Magic Party Bags!
Industry Leading Local Magician & Entertainers For Hire Near You
You Can Relax
With stress-free party planning and flexibility, we are ready to put on a family event that will delight and impress all of your guests. Our team will bring a smooth flow to your child's birthday party, Learn more about how our birthday entertainment packages make life easier for you. You can relax and enjoy the show.
Local Magicians
The Magic Of Zain team brilliantly handles the party from start to finish. We have a combined experience of over 30 years and a passion for what we do. It's easy to understand why we are one of the area's most popular ideas for kids' birthday parties. Magicians are a classic form of birthday fun. Zain is not just a local magician, he's an entertainer.
Highest Rated
Experience the world-class magic from one of the best magicians near you. Zain performs hundreds of five-star magic acts a year right here in Northern Virginia.
Zain's accomplished performances in the magical arts, along with Nicole's fantastic face painting have created countless smiles. Zain the performer has a spectacular presentation for all parties, occasions, and ages. Zain is one of the top virtual magicians locally and is ready to make your party unforgettable.
We started with one simple idea, to offer upscale kids' event services at an affordable cost. Our wildly popular kids' party entertainment packages are hassle-free and convenient for busy parents.
"Hand Down The Best Idea For A Birthday Bash"
Rest assured you are getting the top birthday magicians near Northern VA who travel to you! Performing hundreds of shows for children each year, we are excited to be your next kids' birthday planning team! What makes it even better, we also have packages for kids' party celebrations with incredible Magic Party Bags and balloon twisting. Choose your event location, bring snacks, cake, drinks, etc. and the party is on! Don't you wish everything was this easy? We are here to make your child's party stress-free and fun.
Kids Parties Are Awesome With Zain, The Top Local Magician!
We typically serve the Northern Virginia area including Fairfax, South Riding, Ashburn, Chantilly, Prince William County, Loudoun, and more. Our team only does large events in DC and Maryland. Give us a call and let's start planning the party of the year. Zain the performance artist is ready to guarantee your child's special occasion a huge success. Our full-time event team is here to make hiring a magician simple, fast, and fun.
Congratulations, you're about to have the best celebration ever!
Book early, as we reserve dates quickly and weekends go fast.
Here's how ridiculously easy it is: